What is indisputable is that phones have caused social isolation and digital addiction, But even so, Irreplaceable. Phones are literally capable of accomplishing all tasks and even help to increase productivity and arrange our lives in the right way. So, Try to use it as a blessing. No curse.
In this article, We present to you 20 of the best apps for students on Android and iPhone, It's all about productivity, nutrition, sleep, Fitness, and learning in general.
1. Tide – Sleep Sounds, Focus Timer, Relax Meditate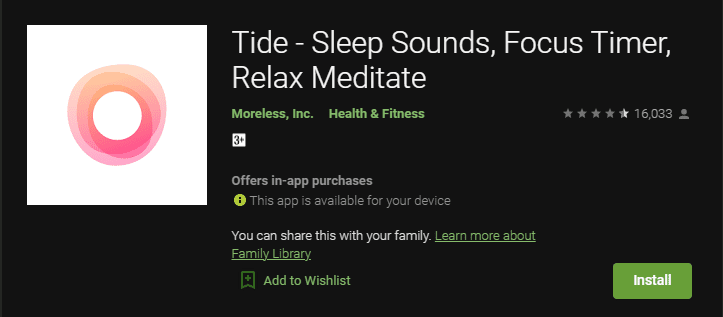 The most important element to ensure success in school and work life is sleep. improves your productivity, Arranges the information and ideas received during the day, and otherwise. And from here, The Tide app comes in.
Helps regulate sleep and naps. It also analyzes sleep quality.
Helps relax and reduce stress by providing relaxing sessions and calming sounds of nature.
Helps prevent distraction and eliminate digital addiction.
Downloadable: Android | iOS (Complimentary, Includes purchaseable items)
2. Discord – Talk, Video Chat & Hang Out with Friends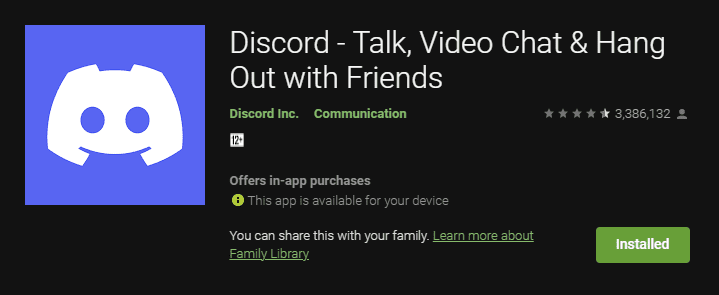 You might be surprised to find that Discord has been added to the list. Why Discord? Although there are apps like Zoom and Microsoft Teams, However, Discord is one of the most popular chatting apps in the world. not only between players, Even with ordinary users.
With Discord, you can create a server and divide it into rooms, And you can organize the entire server in terms of the content published on it, Organize conversations to avoid spam, etc.
You can also communicate with others directly without the need for a server, You can also have group chats and screen sharing. and, most importantly, It is available on all platforms. Even on the browser.
Downloadable: Android | iOS (Complimentary, Includes purchaseable items)
3. Microsoft Office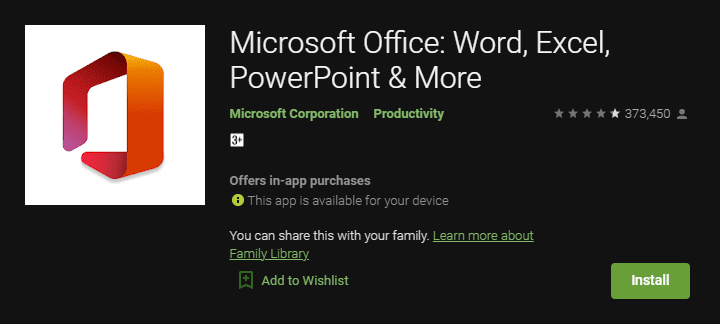 Office is not just a computer package, where you can create and edit word documents, run powerpoint presentations, preview excel files, Through your phone and with one click.
you might be surprised, but already, You can use the Office package officially on Android. Need to open a document and there is no computer near you? Did not matter, You can open and review it through the phone through the Office package programs. You can also edit and share documents via the cloud.
If you own a Samsung phone, Of course you noticed that the Office package is already installed, otherwise, You can download it to your phone for free.
Downloadable: Android | iOS (Complimentary, Includes purchaseable items)
4. Microsoft To-Do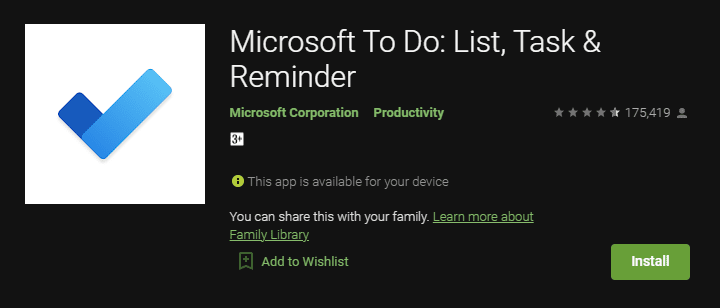 Want to plan the subjects you will study? Arranging the tasks to be completed? Make a list of future plans? This is what To-Do is designed for.
Helps you make lists and organize plans.
You can share lists with friends and colleagues.
Add notes to tasks.
You can mark each list with custom colors.
All listings are stored on the cloud, So it is easy to access across different devices.
Support for integration with Outlook.
Download: Android | iOS (Free)
5. Evernote – Notes Organizer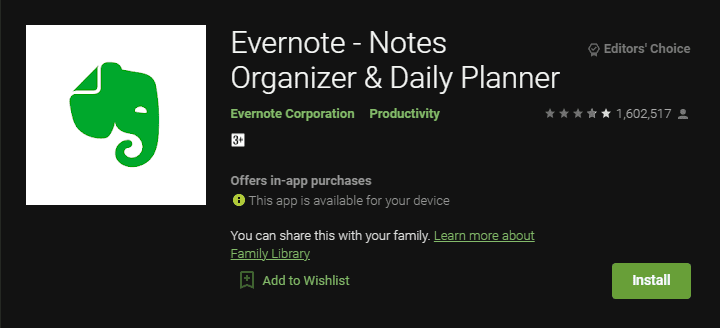 want to record ideas, But you're not a fan of blogging? This is where Evernote comes in as a multi-purpose application. You can write down everything that needs to be written down.
You can record ideas and notes.
Save web pages to visit later.
You can attach photos and files with those notes, You can also use the camera.
You can use it to manage tasks and organize bills.
You can use it to record lectures and keep track of assignments and exams.
Available on all platforms, Which means easy access to content from any device.
Downloadable: Android | iOS (Complimentary, There's a paid copy.
6. Microsoft Lens – PDF Scanner

Would you rather photograph the painting than write it down on paper? Personally, I do that, And who among us does not do it in this era, It seems that we are relaxed because of technology. But usually the pictures taken are not clear or need to be organized, In this case, Microsoft Lens will do its part.
by artificial intelligence, Microsoft Lens converts the captured image (whatever it is) into a PDF that can be edited and converted into a Word document. powerpoint slide show, or excel spreadsheets.
You can use Microsoft Lens with anything, paper documents, Whiteboard Receipts handwritten writing, It is all converted into a document that can be formatted and modified. You can also share it via the cloud.
Download: Android | iOS (Free)
7. Simple Mind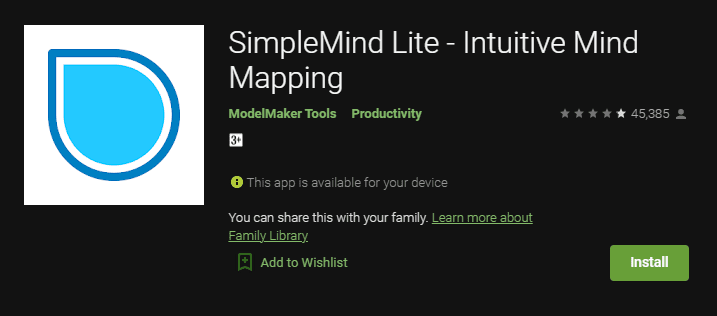 Mind maps are indispensable for remembering and arranging ideas. That's why we recommend Simple Mind app for you.
Create an unlimited number of mind maps and pages.
Choose from more than 15 styles to spice up the map.
You can make more than one mind map on the same page.
100% ad-free and no account required.
User-friendly interface.
Downloadable: Android | iOS (Complimentary, There's a paid copy.
8. Mathway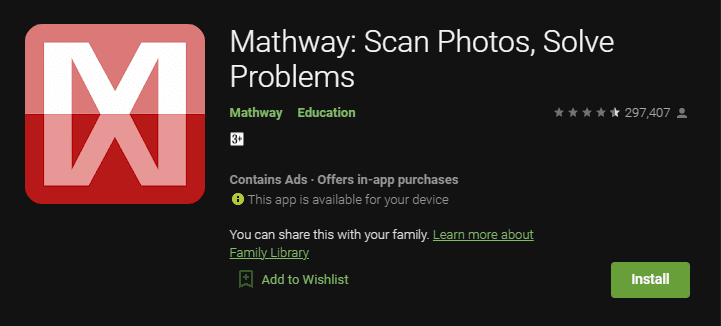 Do you have problems with assigning mathematics? intractable issue? Or are you unable to focus and want someone to answer you? Or are you not really good at math (like me), Simply, Ask Mathway.
You can use Mathway to solve exercises (basic math, algebra, Trigonometry, Calculus, statistics, chemistry, etc).
Mathway answers problems by photographing them through the phone's camera, It recognizes numbers and symbols using artificial intelligence, Then he analyzes it giving you the solution step by step. It also does not need access to the Internet.
Downloadable: Android | iOS (Complimentary, Includes purchaseable items)
9. Oxford Dictionary of English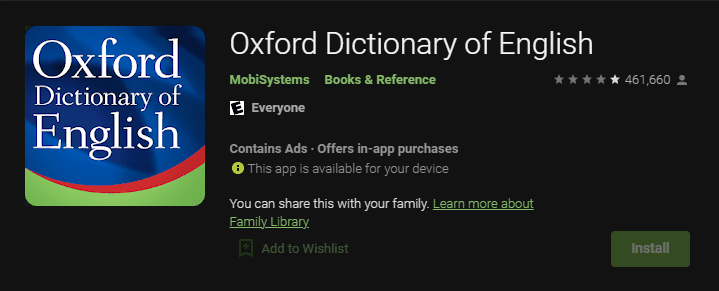 If you are new to learning English, or do some kind of periodic review, You do not need to buy a complete dictionary and go through its pages, Where the Oxford Dictionary of English brings you the Oxford Dictionary at your fingertips and effortlessly.
Contains more than 350 thousand words, phrases, The meaning is from the Oxford University newspaper database.
More than 75,000 audio pronunciations for most common and rare words, With several ways of pronunciation.
You can search for words you want to know their meaning even if you don't know how to write them.
Easy to use, It does not need any permissions.
You can count on it for ACT, SAT, IELTS preparation, or TOEFL.
There is a paid subscription to the application that gives you many additional benefits, Including use in offline mode, priority in support and inquiries, And get an ad-free experience.
Downloadable: Android | iOS (Complimentary, there is a subscription)
10. Sleep Cycle: Sleep analysis & Smart alarm clock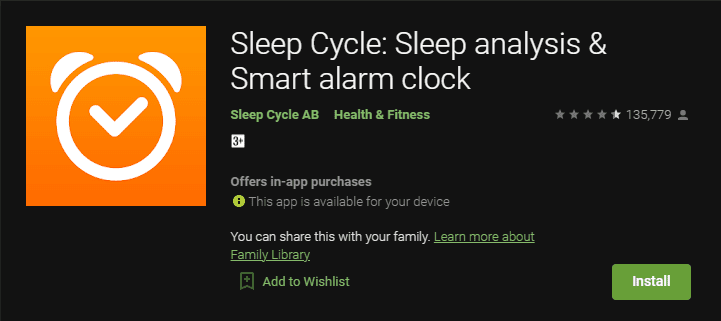 As the name suggests, Sleep Cycle adjusts your biological clock. Improve and monitor sleep quality.
Provides you daily detailed statistics and indicators about your sleep.
Contains a selection of carefully selected alarm tones.
Snooze by shaking the phone or tapping the screen twice.
Support for Wear OS watches
There are also some paid features such as comparing your sleep data with global statistics, snoring control, Backup your sleep data over the network, And the ability to get your sleep data in the form of an Excel file.
Downloadable: Android | iOS (Complimentary, there is a subscription)
11. BigOven

Okay, Here we are not talking about productivity, improve sleep quality, or recall, We are talking here about the most important thing for some, eater. If you are an expatriate student or live alone, You definitely don't have time to learn to cook from scratch and come up with something delicious, And you definitely don't want to live mainly on junk food.
You can search among more than a million recipes spread on the application attached to pictures, You can even post your own recipe on the app. Also, you can share recipes with friends and family and sort them into folders. You can also make a grocery list, You can categorize them according to the recipe you want to cook.
The funny thing here is, There is a feature in the app called Use Up Leftovers, All you need is to write down a maximum of three ingredients that you have in the fridge, And the application will find you recipes that can be prepared with those ingredients, which means less waste, and save more.
Downloadable: Android | iOS (Complimentary, there is a subscription)
12. Coursera

Distance education became prevalent during that period, You don't need to book a course in a subject somewhere, All you need is an internet connection, A device with a camera and microphone (in our case here the phone), and no more than that, Just choose the field or subject you want to take the course in and the journey begins.
Coursera offers you courses in various fields taught by experts from prestigious universities and destinations such as the University of Michigan, Google, IBM, Facebook, And more.
Coursera offers courses in the following areas:
Business: Accounting, Marketing, Economie.
Computer Science: Programming in its branches.
Data Science: machine learning, Artificial intelligence, deep learning.
Arts: the design, photography, music, and creative writing.
Self development: leadership, negotiation, and public discourse.
Sciences: Robotics, Nutrition, Chemistry, and medicine.
You can sign up for a starting price of $39 per session.
Downloadable: Android | iOS (Complimentary, there is a subscription)
13. Duolingo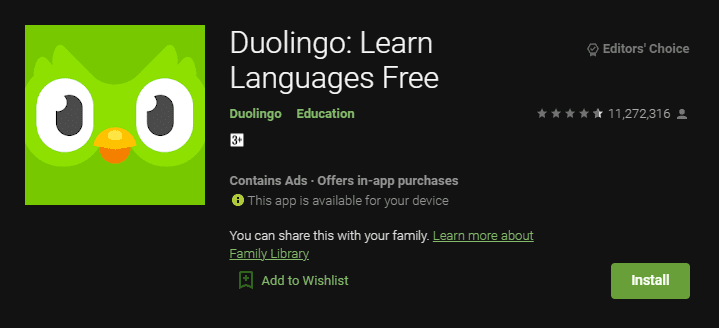 If you intend to learn a new language, Duolingo is the perfect choice.
Contains more than 35 languages to learn.
It offers educational content more like games.
It enables you to monitor your learning progress.
You can join a community of more than 300 million users around the world to share experiences and practice.
The application interface supports the Arabic language.
Downloadable: Android | iOS (Complimentary, there is a subscription)
14. Grammarly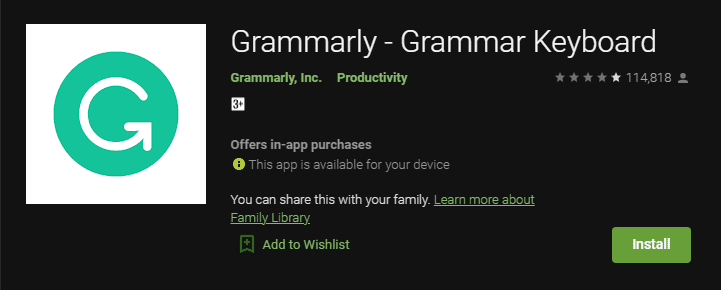 Do you write on a daily basis? Sometimes you miss spelling mistakes? Want to present a project and don't have time to review every word? That's why Grammarly found it. Grammarly is known for being one of the most popular Google Chrome extensions in the field of productivity. His job is to correct spelling and grammar errors.
It can be used to write email letters, document editing applications, Even on social media platforms. It can also predict upcoming words and make suggestions in real time. It can also be relied upon to review statements, It also suggests better phrases and paragraphs depending on the situation, "Certainly the way you phrase it in an email is a lot different than a post or Tweet on a social media platform."
Downloadable: Android | iOS (Complimentary, there is a subscription)
15. Brainscape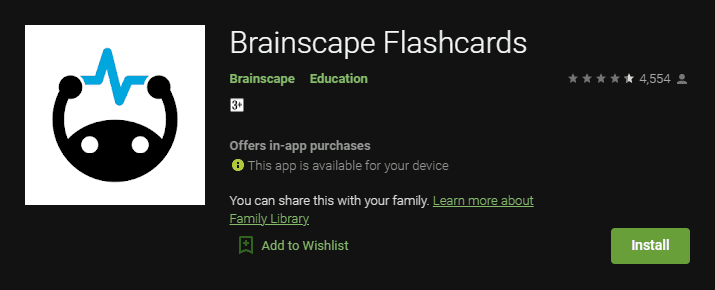 Brainscape helps you create cards that help you learn faster, This is done by summarizing the information and writing the important points. You can also attach visual contents (photos, videos) with those cards. You can also make quizzes to review what he remembered and confirm the information.
Downloadable: Android | iOS (Complimentary, there is a subscription)
16. Calorie Counter – MyFitnessPal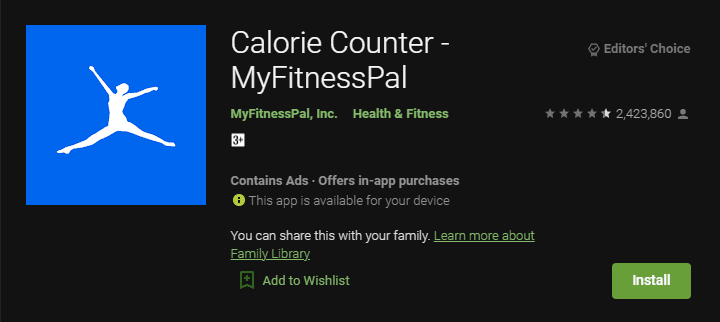 Since a healthy mind resides in a healthy body, We recommend the My Fitness Pal app.
Access to a large database containing various types of food.
Setting goals related to weight and nutrition.
Monitor your daily activity and how many calories burned.
You can connect with and learn from a community of more than 200 million users around the world.
Supports more than 50 fitness related devices and apps.
Downloadable: a Android | iOS (Complimentary, there is a subscription)
17. Mint: Track Expenses & Save

Money and expense management is not just for students of economics and commerce, It is essential if you want to be a successful person. Whether you live alone or with your family, receive an allowance or work part-time, You need to monitor and prepare your budget. This is where Mint comes in. With it you can:
Monitor all financial operations and balance.
Monitor your monthly expenses.
Overall spending control.
Receive reminders about bills.
Link credit cards, loans, investments, etc. with one click.
Downloadable: Android | iOS (Complimentary, There are purchasable items.)
18. edX: Courses by Harvard & MIT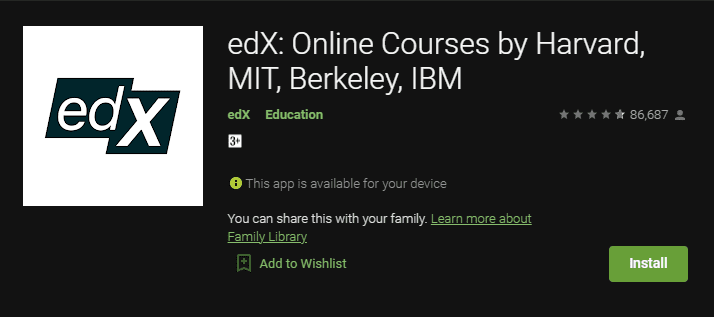 What if I told you that you could access more than 2,000 courses from the best international universities and colleges on your phone? Actually that's what edX does. The application markets itself as offering more than 2,000 courses from more than 100 reputable entities. From colleges and universities such as Harvard and MIT.
You can study freely depending on your speed.
Join the live broadcast of the sessions.
download courses and watch them later, It will also help you if your internet is unstable.
Test your knowledge with quizzes and exams as you progress through each course.
Teaching is taught by professors and experts who work in the world's most important colleges and universities.
All courses are available for free.
edX offers courses in the areas of:
computer science.
Business and management.
Maths.
Sciences.
Languages.
and other various fields.
Download: Android | iOS (free)
19. Forest – Stay focused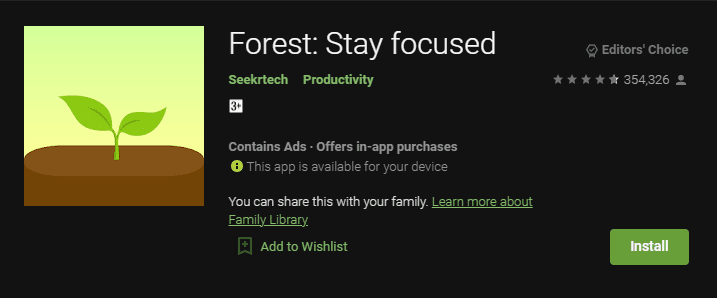 Are you addicted to phone use heavily? Do you have exams and get distracted while studying? What do you think of the strangest way to help you quit phone addiction?
Forest works with a unique mechanism, All you have to do is plant a seed in your own forest and wait for it to grow, And if you decide to unlock the phone during that growth process, The plant dies instantly. It seems kinda strange, But if we think about it from another perspective, This is the most enjoyable way to get rid of phone addiction.
Forest helps you beat procrastination and stimulates focus, In return, you will have a beautiful plant in your virtual forest, As well as your achievement in academic and practical life, and social.
You can grow plants in the real world with the app! This is a feature provided by the application in cooperation with the Trees for the future organization to protect the environment. But that requires a paid subscription. As well as additional features such as creating a white list of applications, Monitor daily usage and screen time.
Downloadable: Android (Free) | iOS ($1.99)
20. Asana: Your work manager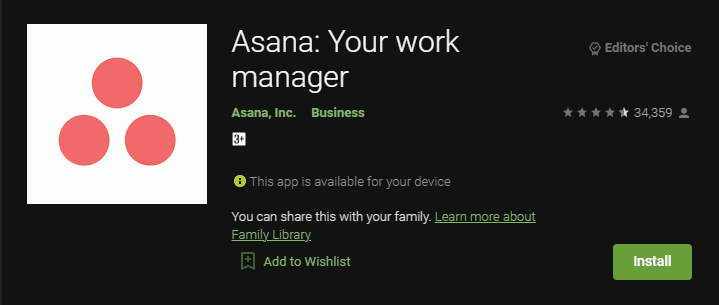 Have a project or assignment with colleagues and want an organized way to communicate? Asana is a platform that connects you with team members and helps share ideas and monitor workflow. Used by companies from Intel, Uber, TED is the primary means of communication.
Monitor the achievement of each person within the team and their work.
Coordination of plans, projects, and tasks in one common space.
You can follow the workflow from anywhere.
Get instant notifications if a project is in danger or derailed.
Divide tasks in order of priority.
Get notifications when tasks are completed.
Convert voice notes to text automatically.
It can be used without internet and without worrying about losing any data.
Downloadable: Android | iOS (Complimentary, Includes purchaseable items)
And now, We have covered 20 of the best apps for students for Android and iPhone that students can use to make their studies, finances, and life easier, It is also possible to mix more than one application to get the most benefit.
By the way, Did you know there is a link between productivity and your diet? We may have listed some of the applications related to nutrition and fitness, You can add them to our list of Top 5 apps to calculate calories in food , which helps to make an excellent diet.