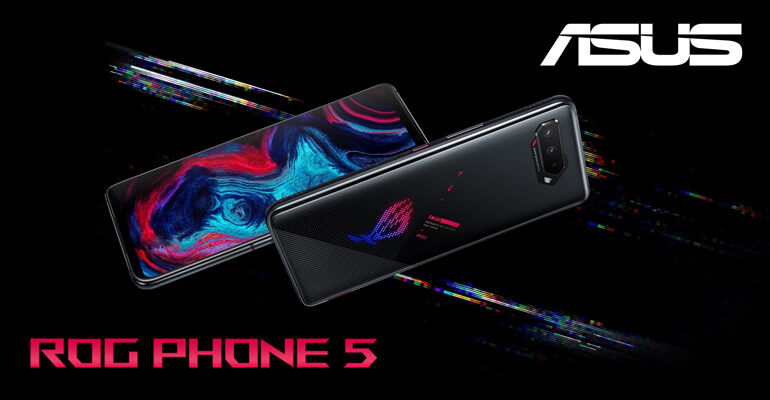 As a result of a growing interest in mobile games, Manufacturers such as Lenovo, Razer, Xiaomi (Black Shark), and ASUS offer more powerful gaming smartphones on the market. ROG Phone 5 is equipped with the best Android processor, It offers an impressive 144Hz screen and of course 5G. In addition, there are other features such as a huge battery and additional buttons that ensure a great gaming experience.
ASUS has three different versions of ROG Phone 5 , which differ only marginally. It goes by different names, but the only relevant differences are internal memory and RAM. In addition to the regular version, there is also a Pro version and ASUS ROG Phone 5 Ultimate. This article covers the entire generation.
Huge 144Hz screen with ROG design

To turn all video games into immersive fun, You need a large display that adequately reproduces all the content. US ROG Phone 5 uses AMOLED – HDR10 + 6.78 inch screen. this way , Enough space is provided for all photo and video items. The screen does not have holes like the punch-hole for the front camera, But it comes with sharp edges that result in a smooth picture format. The screen is protected by ultra-resistant glass Corning Gorilla Glass Victus which is used only in the best smartphones and protects your screen from scratches and breakage.
Display resolution in pixels Full HD + (1080 x 2448), Which is common for gaming phones to save battery life
Of particular note is the increased 144Hz screen encoding rate, Which enables very smooth operation. So all games are played smoothly without stuttering.
The touch screen also has a touch sampling rate of 300 Hz and ensures a short latency, This means that your touch is quickly and accurately recognized.
Simple yet unique design. It is available in black and white and has

ROG logo with RGB lighting, which can be precisely adjusted in terms of color.

The Ultimate Edition can be equipped with a small LED screen

on the back of the mobile.
Powerful presentation in perfect gaming format.
Unlimited processor power with 5G
Inside the ROG Phone 5 is Qualcomm's Snapdragon 888. The super processor is the absolute elite of today's Android chips.
At a full 2.84GHz, its eight cores can handle even the most demanding video games.
In addition to 16 GB of RAM, Which turns every great task into a trifle. The Ultimate Edition even kills you with 18GB of RAM.
The internal memory of the ROG Phone 5 offers either 256 GB or in the final alternative 512 GB
With UFS 3.1 storage technology, The device writes and reads all content at lightning speed.
Of course , Snapdragon 888 offers the latest connectivity standards. WiFi 6E enabling faster and more stable transmission speeds in WLAN to date across multiple antennas.
5G is a must for such a super device. With advanced network expansion, You are always well connected and fast on the internet.
You can specify exactly how your mobile phone should optimize its operations and the functions that are most important to you
Monitor cell phone performance and temperature as well as limit background activities and display resolution in order to develop the full power of mobile gaming.

For a perfect gaming experience, The ROG Phone 5 has ultrasonic shoulder buttons that simplify the operation in video games. The device also responds precisely to motion controls such as tilt and swivel, With which you can play games in a more intuitive way.

ROG emphasizes that the 10 motion gestures are unique to the Phone 5. Audio features also enable an all-round gaming experience. The stereo speakers go forward and ensure powerful and immersive sound. A single headphone jack in the form of a well-known 3.5 mm jack is still available. On the contrary , Headphones can be connected via Bluetooth 5.2.
Huge dual battery for long gaming
To never run out of power, The ROG Phone 5 looks like the Lenovo Legion Phone Duel Equipped with a dual battery structure. combined, The result is enormous 6000 mA, With which the entire computing power of the smartphone is reliably supplied. The battery is split and advanced cooling system from developing a lot of heat, It may also arise when charging and playing at the same time.
The dual battery is charged via two USB-C connections on the right side and bottom. The charging speed is an amazing 65W what many other flagships like that iPhone 12 Pro (20W) or Samsung Galaxy S21 Ultra (25W) fits easily in your pocket. The battery gets fully charged again in no time at all. You can adjust exactly how charging should be done using the associated software in order to save battery. For example, you can set a constant charging speed, maximum capacity and schedule. Twice the 3,000 mAh power you up for hours.
Triple lens camera at a high level

Of course , This gaming cell phone also has a modern and versatile camera. ASUS installs a triple camera with:
64 MP which is based on Sony IMX686 sensor.
With a low aperture of 1.8, it takes wonderfully sharp and clear photos even in the dark.
in addition to , There is a 13-megapixel ultra-wide lens, It is suitable for photographing large subjects such as landscapes.
With the macro sensor, you can also take five-megapixel close-up photos.
Camera videos are stronger in 8K quality. ASUS relies on some advanced software functions such as professional video mode, free zoom, wind filter, and audio focus.
The front camera has it 24 mega pixel It allows you to take beautiful selfies. It shoots in Full HD and optimally supports you when streaming via Twitch & Co. To ensure perfect audio recording, four microphones are arranged around the phone.